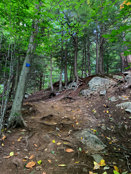 The Parks, Recreation & Trails Department offers a map for each of its water trails management areas, the Frost Centre and the Poker Lakes, as well as a guide book to its 10 hiking trails. Our Frost Centre maps are currently out of stock and we are offering the Chrismar version.
There are also several companies producing canoe route maps for the area, which can be found at major outdoor retail locations throughout the province, just look for maps of the Frost Centre or Poker Lakes canoe routes areas. Chrismar Maps makes an excellent water proof version. 
If you would like us to send you a map by mail, please contact 705-766-9033 to make arrangements.
Frost Centre Area $13.95 + HST
Poker Lakes Area $8.95 + HST
Guide to Hiking Trails in Algonquin Highlands $2
* $3 postage fee is applicable to all mail orders
Mailing Address:
Township of Algonquin Highlands
1123 North Shore Road, Algonquin Highlands, ON K0M 1J1
Trails Office Hours of Operation
Victoria Day Weekend to Thanksgiving Weekend Open 7 days a week 9 a.m. to 4:30 p.m.
After Thanksgiving to Dec. 31 Monday to Friday 10 a.m. to 3 p.m.
Jan.1 to end of March Break 7 days a week 10 a.m. to 4:30 p.m.
End of March Break to Victoria Day Weekend Monday to Friday 9 a.m. to 4:30 p.m.
Sign up for News and Notices!
Keep up to date with everything happening in Algonquin Highlands by receiving regular updates to your inbox!