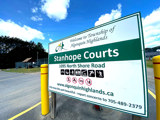 Located behind the Stanhope Firefighters' Community Hall at1095 North Shore Road is an outdoor athletic complex offering: 
Two asphalt tennis courts with nets

Multi-purpose concrete court with basketball and pickleball lines (bring your own net)

Volleyball court

Grass sports field

Baseball diamond

Courts have self-serve lights that stay on until 11 p.m. Just push the button on the post and play away!
Sign up for News and Notices!
Keep up to date with everything happening in Algonquin Highlands by receiving regular updates to your inbox!